Michelin Restaurant Guide
Nearby stars to collect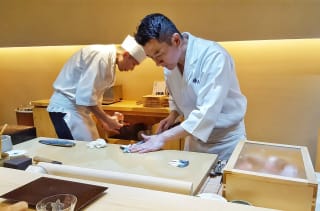 Sushi Masato (1 Michelin Star)

Get an authentic taste of Japan at Chef Masato Shimizu's eponymous omakase sushi bar in Bangkok. After garnering his fame in New York City, the chef has opened another elegant and intimate spot housed on a quiet lane in Soi Sukhumvit 31. Got a craving for the most exquisite uni and luxury sashimi cuts? Take it all in at this upscale chef's table with fresh catches sourced directly from Japan.
Photo Credit: https://www.sushimasato.com/ma...
Gaa (1 Michelin Star)
Gaa offers much more than your standard Indian fare, so expect to be dazzled by their tasting menu that presents nouveau Indian dishes. Indian street food is transformed by way of modern techniques and presentation— making for a fresh dining experience that showcases Indian flavours amid a setting of a traditional Thai house.
Photo Credit: https://www.eatchillwander.com...
Cadence by Dan Bark (1 Michelin Star)

Chef Dan's progressive American cuisine combines the best of Western and Asian cuisine into a tasting menu that boasts stunning attention to detail. Beautifully plated and a feast for the eyes, the restaurant also serves equally decadent cocktail or mocktail pairings.
Photo Credits: https://www.cadence-danbark.co...
R-Haan (2 Micheline Stars)
The name R-Haan directly translates from Thai to English as "food". A brainchild of celebrity chef Chumpol Jangprai, the fine dining establishment serves authentic Thai cuisine, using recipes that encapsulate traditional royal Thai dining. Besides dishes akin to the ones that have graced the tables of royalty, the tableware is also an occasion in itself. Hand-crafted and hand-painted ceramic dishes and bowls which are meticulously replicated by skilled craftsmen will have you feasting like a king from the glorious era of the Rattanakosin period.
Photo Credit: https://www.unlockmen.com/guid...
Sorn (2 Michelin Stars)
Sorn presents a sophisticated and refined interpretation of Southern Thai cuisine. With a focus on long lost recipes and local culinary wisdom, the restaurant also sustainably sources from a trusted network of farmers and fishermen. Southern fare is all about seafood, so expect dishes centered around catches from the ocean—and a load of heat and spices. Here, you'll find the richest of flavours as soups and curries are slow-cooked, with some even double-boiled for 6 hours.
Photo Credit: https://www.eatingthaifood.com...
Khao (1 Michelin Star)

Offering an innovative take on Thai cuisine, Khao's menus are a harmonious blend of herbs and meticulously home-cooked dishes that exude creativity and excellence. Simple Thai essentials get an upgrade with their usage of premium ingredients—such as the Thai herbs and vegetable soup, but with Taraba crab. Don't miss their unique sorbets for dessert: lemongrass and basil or pineapple and chili salt bring the meal to a refreshing close.
Photo Credit: https://www.timeout.com/bangko...
Canvas (1 Michelin Star)
The food here literally looks like works of art and the 22-course seasonal menu resembles a wondrous gallery show. A mélange of international cuisines that refuses to fall under one category, Canvas serves an innovative and creative spin on the finest Thai ingredients. Think local ingredients such as ant egg, lychee, pigeon, lobster and many others, getting a fancy treatment.
Photo Credit: https://www.alamy.com/interior...
Chim by Siam Wisdom (1 Michelin Star)

Set in a vintage Thai wooden house and surrounded by a verdant, manicured garden, you can find a wide array of traditional Thai cuisine here. Featuring dishes from all four regions of Thailand, Iron Chef Noom Thaninthorn strikes a fine balance between classic tastes and contemporary techniques. Have a taste of their pork belly with shrimp paste or the chef's take on the legendary tom yum cooked instead with Songkhla sea bass.
Photo Credit: https://www.ryoiireview.com/re...