Bar Hopping
Drink first, think later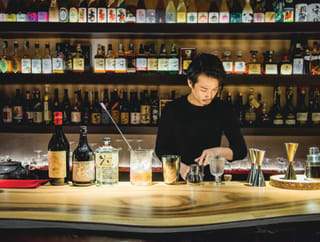 1. Rabbit Hole
Bangkok's most beautiful flock to this big cocktail name for a few swanky sips. Behind the unassuming wooden door, the three-story shophouse has turned into one of the most visually stunning drinking spots, fitted with a marble bar and rose-gold showcase of endless bottles of booze. A roster of award-winning bartenders serve a deliciously detailed array of cocktails you can choose from.
Photo Credits: https://www.facebook.com/rabbi...
2. Tichuca Rooftop Bar
It's a wild but glossy time at this rooftop bar with a jungle-themed décor. Located on the 46th floor of T-One building, this tiki bar takes you to the tropics with its rattan stools and humongous wooden tables. Enjoy views of the city's skyline with tiki-style drinks such as Cuban Melon or Banana Sour.
Photo Credits: https://bangkok.phuket101.net/...
3. J.Boroski Mixology
Joseph Boroski is the talent who has concocted cocktail lists for many of Bangkok's stylish bars and five-star hotels. At this shop of his own, the master mixologist offers sensational bespoke cocktails made just for you. The space is designed by interior wizard Ashley Sutton, another acclaimed talent known for his fantastical and other-worldly drinking holes.
Photo Credits: https://bk.asia-city.com/night...
4. Find the Locker Room
As the name suggests, part of the main fun is finding the way into this speakeasy bar. Hint: It's behind one of those gym locker doors. Inside this secret, dark grey bar, you'll find a variety of handcrafted cocktails following a "Past, Present, Future" concept, where classics are given three different spins. Chinese bar snacks such as Drunken Chicken and Siu Mai wash down nicely with the drinks.
Photo Credits: https://www.siam2nite.com/en/l...
5. Hanakaruta
This izakaya eatery is the spot to head to for a comprehensive selection of all things Japanese. Besides a solid menu of umami Japanese dishes, you'll also find an extensive variety of sake, umeshu plum wine and high-ball cocktails. Trust the ice to be on point here, as their barmen meticulously carve giant balls of ice every evening.
Photo Credits: https://www.bkkmenu.com/eat/we...
6. Salon Du Japonisant
A step into this shophouse corner will feel like stepping into your Japanese friend's home. Run by Bacchus Global, the importer of Japanese labels such as Hibiki and Yamazaki, this bar is a favorite among fans of Japanese whisky and liquor. There are also premium Japanese wines available by the glass, as well as classic cocktails that are given a twist. Think Old Fashioned and Mojito, but with Japanese touches of kuro mitsu (Japanese brown sugar) or shochu infused with herbs.

Photo Credits: https://www.siam2nite.com/th/l...
7. The Rose Wine Bar
Have your wine without the uptight and snobbish pretensions at this intimate and playful space that is billed as Thonglor's first natural wine bar. The single-page menu lists over a dozen of the owner's favorite sustainable, organic or biodynamic selections from Australia to Germany. Light bites such as marinated squid or Sakhon Nakhon beef strips are also available.
Photo Credits: https://bk.asia-city.com/night...